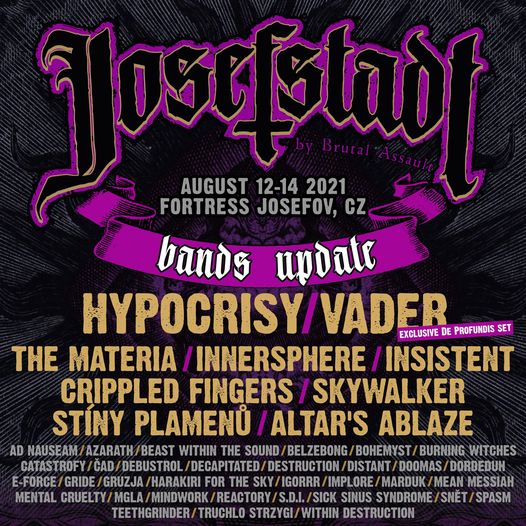 The final band update for JOSEFSTADT by Brutal Assault is here and brings in the festival's headliner – Swedish Hypocrisy!
Unfortunately, it is not only good news. Covid related restrictions of travel have cost us Conjurer and Pestilence. However, we are bringing in replacements with Poland's The Materia and Vader, whose name has resonated the most in your comments!
You can also look forward to the emotionally charged post-hardcore of the Skywalker guys, while INNERSPHERE will add emotion and atmosphere to the modern take on death. CRIPPLED FINGERS will hit you with a thrashing hardcore fist, Stíny plamenů will bring honest black and Insistent will bring grindcore influenced by the Nordic scene. And finally we have one premiere – Altars Ablaze is a death/black project formed exclusively of well-known Czech musicians.
Tickets: https://brutalassault.cz/en/tickets/detail/id/309
Web: https://brutalassault.cz