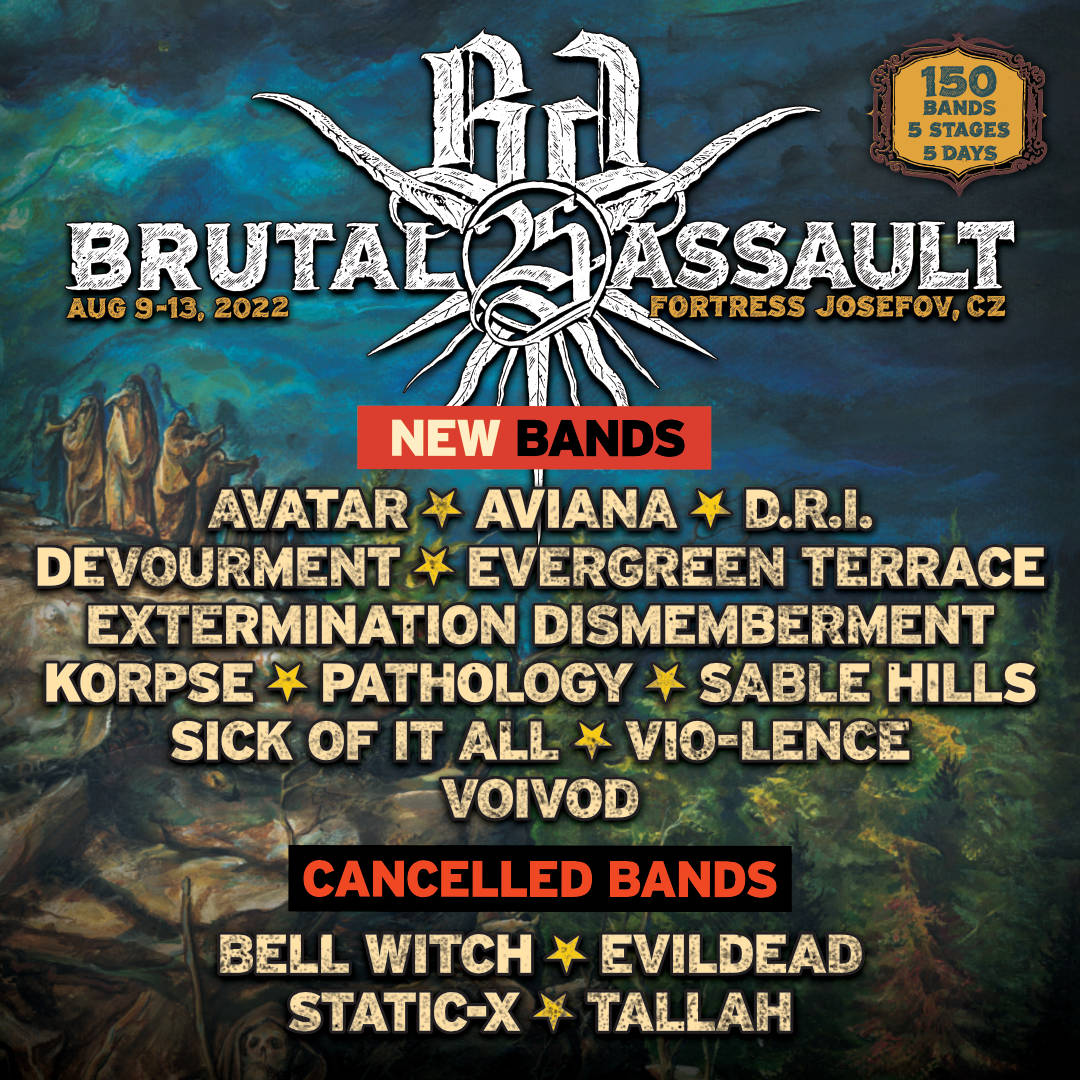 Brutal Assault – lineup update.
Hardcore and thrash legends, pioneers of crossover thrash and slamming death and more. This update for Brutal Assault 25 (2022) – official event brings a great variety, so let's get straight to it!
The most honest hardcore from New York will come with SICK OF IT ALL. Next, let us welcome again VIO-LENCE – thrash cult from San Francisco and predecessors of Machine head, who'll play in the fortress for the first time. And they are not the only ones!
Same goes for crossover thrash pioneers D.R.I., Gothenburg's alternative and 'lost death metal souls' AVATAR, Swedish djent-core sensation AVIANA, Japanese metalcoreists SABLE HILLS and the quartet of brutal slamming deaths EXTERMINATION DISMEMBERMENT (Belarus), KORPSE (Holland), PATHOLOGY (USA) led by the pioneers themselves – DEVOURMENT!
Slowly wrapping this up, EVERGREEN TERRACE will return with their melodic hardcore with punk roots, and the absolutely unique VOIVOD will bring their excellent new album 'Synchro Anarchy'.
At the very end we also have some bad news – Bell Witch, EvilDead, Static-X and Tallah had to withdraw from the Brutal line-up.
The current ticket price is valid until the end of April!
Tickets: http://brutalassault.cz/en/tickets
New bands: Avatar, AVIANA, Devourment, D.R.I, Evergreen Terrace, Extermination Dismemberment, Korpse, Pathology, SABLE HILLS, Sick Of It All, Vio-Lence Offical Page, Voivod