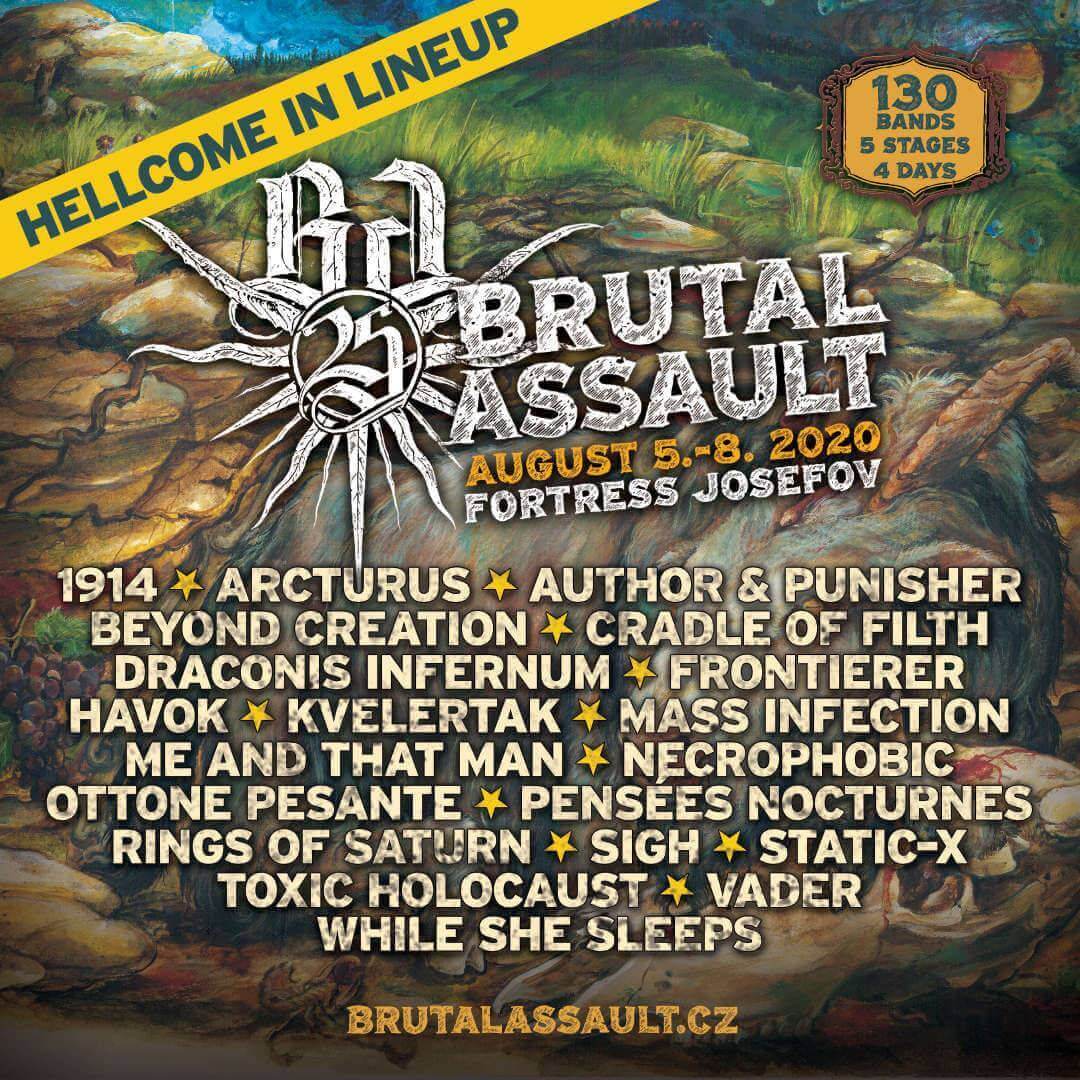 Brutal Assault – lineup updated
Brutal Assault festival is annual since 1997. In 2020 iit will be XXV time.
Today we got a new pack of bands announcement for the Brutal Assault 2020 festival.

It's still just October but we are already announcing a second massive batch of bands! It's twenty new names total and we will start with the more underground acts.

The war poets 1914 are coming from Ukraine to deliver their sludge-ish take on of black / death metal blend. For the next band we stay in black metal waters but geographically we move all the way to Singapore to DRACONIS INFERNUM with their blistering old school black. Black metal is also a part of the SIGH portfolio. But as is customary with the Japanese, they add a lot of unique weirdness to the mix including flutes and saxophones. Another underground gem that also features a brass section are Italians OTTONE PESANTE. They have built their unique sound exclusively on a trumpet and trombone accompanied by furious drums. This trio will bring an avant-garde devil-may-care attitude to the fortress. The same will be true about the avant-garde black metal chaosmongers PENSÉES NOCTURNES. As far as extravagancy in metal goes, the country of Gallic rooster is always a guarantee of a great experience. FRONTIERER, a quintet from the United Kingdom or more precisely from Scotland, will also represent a non-standard cut. Expect the energy of The Dillinger Escape Plan, dissonant riffs ala Car Bomb and hammer fist sound. The death metal powerhouse MASS INFECTION have both technique and brutality. They draw from both American school and European school, bet on speed and hellish melodies. It's definitely gonna get hot with AUTHOR & PUNISHER. Industrial metal, drone, noise.. just tremendous power of sound that will drop you to your knees. When talking about world-class avant-garde, you certainly cannot avoid mentioning Norwegian masters ARCTURUS. We are always excited about their progressive black-ish show fronted by the voice of ICS Vortex and backed by the drums of Hellhammer (Mayhem). Now a band we are extremely excited about – BEYOND CREATION! We have been working on bringing their brilliant technical death metal for a long time and finally we've succeeded. There will be no shortage of technical approach and complicated structures with deathcore intruders RING OF SATURN either, as they are gonna present the upcoming album "Gidim". The explosive but songful metalcore of the Englishmen WHILE SHE SLEEPS belongs to the top class of the genre. And the same can be said of American thrashers HAVOK, whose work offers not only old school but also modern approaches to songwriting. Modern outlook and futuristic visions of industrial alternative metal will be imposed on the masses by STATIC-X! Their revived line-up after the demise of the singer Wayne kills live. And the same goes for the current line-up of CRADLE OF FILTH, who are experiencing a second peak. And you will experience the peak, because they will bring "Cruelty and the Beast" in its entirety! VADER have 35 years of experience under their belt and they are battle-hardened veterans, who simply belong to Brutal Assault. Especially when They will bring "De Profundis / Litany" show! Only 5 years younger are NECROPHOBIC, one of a kind band focused on melodies in blackened death metal from Sweden. We stay in Scandinavia with Norwegian savages KVELERTAK. They like to merge genres. Black metal, hardcore punk, heavy metal… this is gonna be a wild ride! TOXIC HOLOCAUST will unleash short-burst thrashing onslaught and finally we are finishing with another Czech premiere. We always welcome Nergal in our fortress with open arms. This time, however, he does not come with Behemoth, but arrives in a hat with the melancholic songs of ME AND THAT MAN.
If you don't buy your tickets yet, don't hold off! You can but it at the official Brutal Assault site.