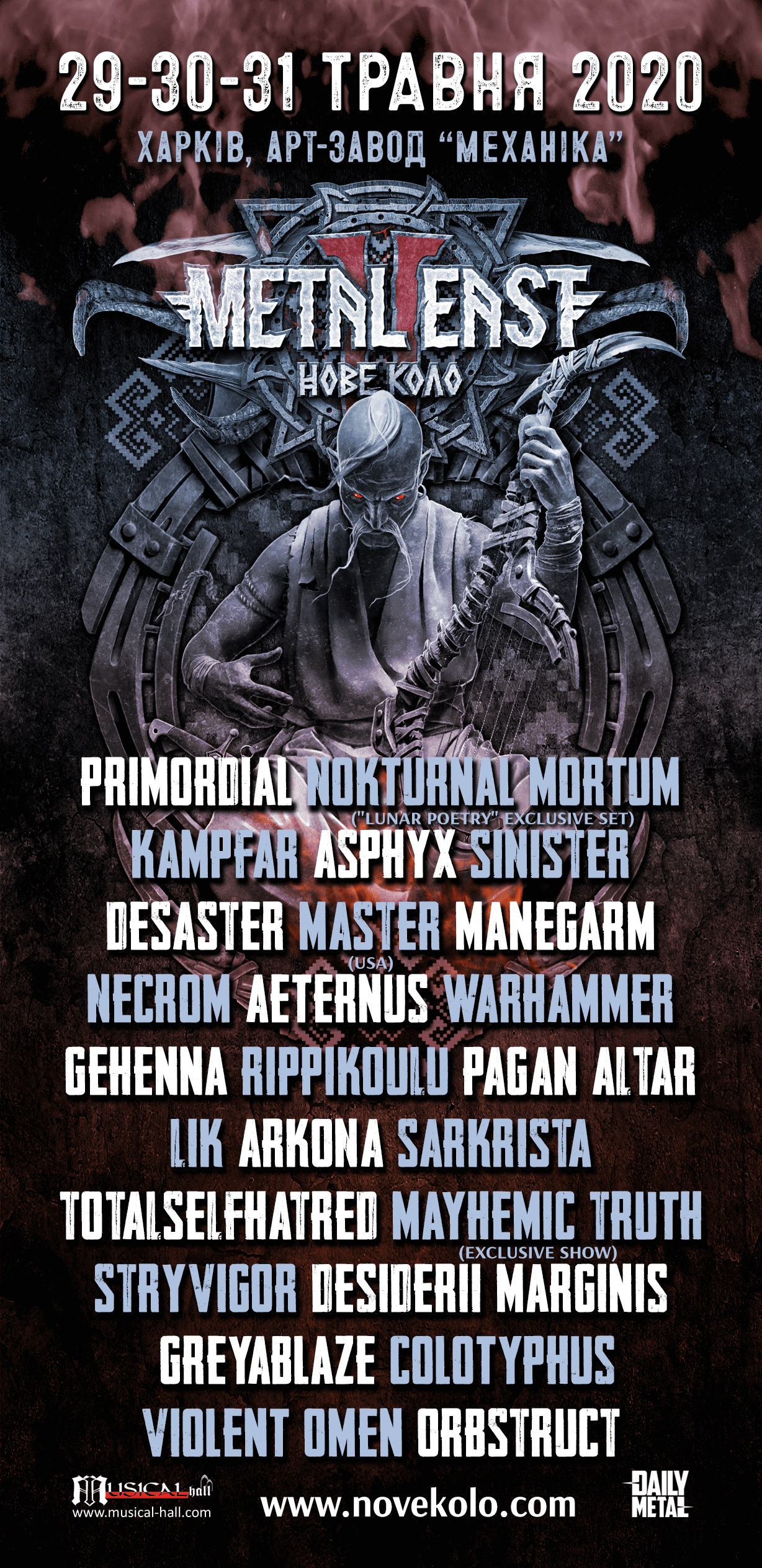 Metal East: Нове Коло 2020
May 29-30-31
Ukraine, Kharkiv, Art-zavod "Mechanica. Inaya Zemlya"
The musical festival with a long history will be held in the format of a three-day art event on the territory of the Kharkiv Art-zavod "Mechanica" for the third year in a row.
Each year, the line-up of the festival consists of more than 20 bands from different corners of the planet. All names of the metal part of Metal East are interesting and distinctive projects of the world underground scene, most of which visit Ukraine for the first time. In particular, among the announced bands of Nove Kolo in 2020 – Primordial, Månegarm, Pagan Altar, Rippikoulu, Aeternus, Asphyx, Kampfar, and others.
A special part of the line-up is dedicated to the performances of Ukrainian bands: in particular, Nokturnal Mortum will prepare for the festival a special set focused on the cult album 'Lunar Poetry'.
Metal East: Novo Kolo is more than a music festival. For three festival days, the territory of the Art-zavod "Mechanica" will again turn into a large metal-object created from dozens of zones and activities, including the space of art projects, a wide food court, a lounge area on a summer open ground, the Meet&Greet location, where meetings with bands and special guests are held during the festival, as well as a large metal market, represented by the oldest and largest Ukrainian metal distributor Musical Hall.
Metal East: Нове Коло 2020 line-up:
Primordial (Ireland), Nokturnal Mortum (Ukraine) with exclusive set 'Lunar Poetry', Kampfar (Norway), Asphyx (Netherlands), Sinister (Netherlands), Desaster (Germany), Master (USA), Månegarm (Sweden), Aeternus (Norway), Warhammer (Germany), Rippikoulu (Finland), Pagan Altar (England), Sarkrista (Germany), Totalselfhatred (Finland), Gehenna (Norway), Violent Omen (Ukraine), Desiderii Marginis (Sweden), Colotyphus (Ukraine), Arkona (Poland), Orbstruct (Ukraine), Stryvigor (Ukraine), LIK (Sweden), Necrom (Ukraine), GreyAblaze (Ukraine) and Mayhemic Truth (Germany) with an exclusive show.
Links: Official festival website