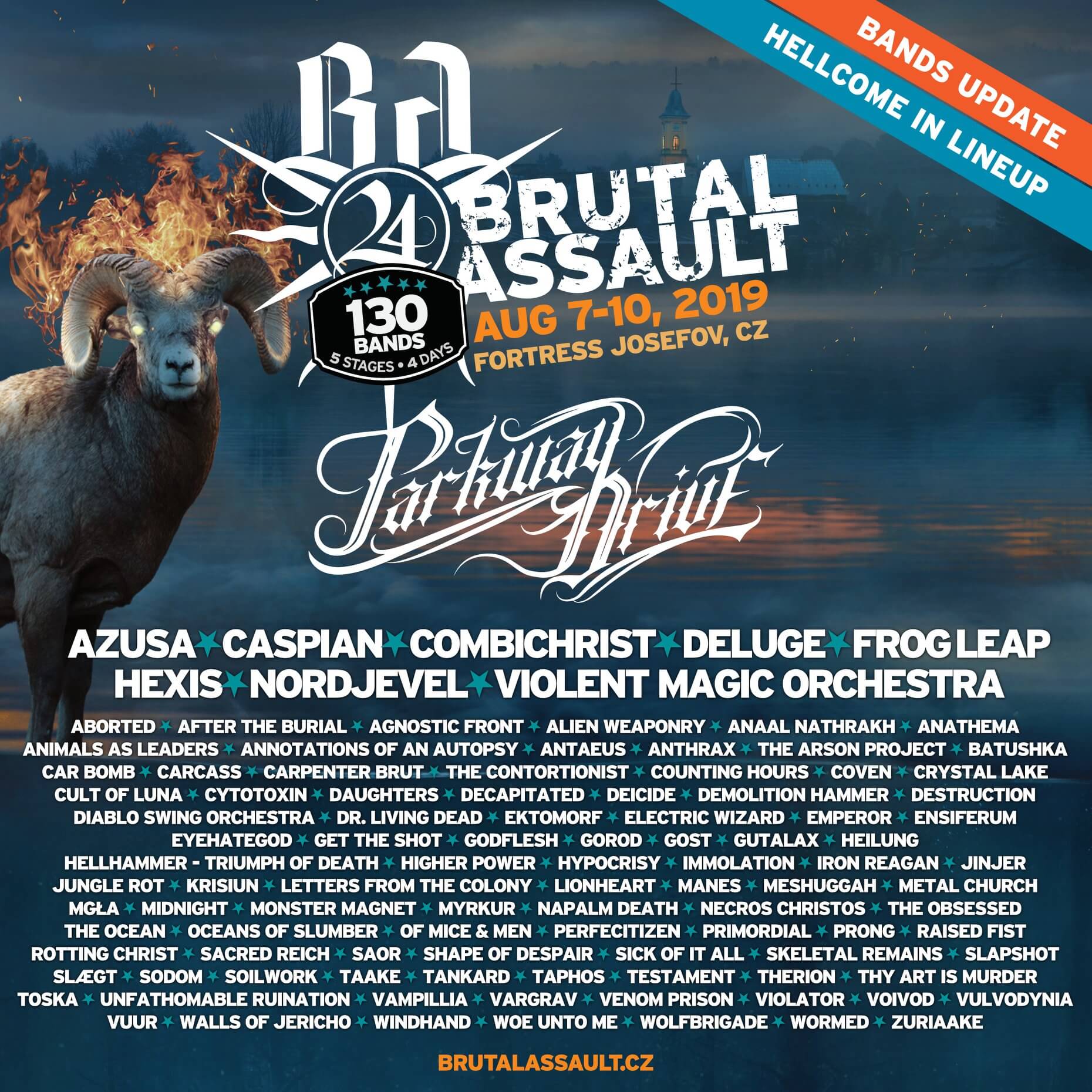 Brutal Assault festival is annual since 1997. In this year it will be XXIV time.
Today we got a new pack of bands announcement for the Brutal Assault festival.
If you don't buy your tickets yet, don't hold off! You can but it at the official Brutal Assault site.
Blasting out of Byron Bay, almost as an affront to the serenity of their surrounds, PARKWAY DRIVE quickly established themselves as the most formidable force Australian heavy music had ever seen. A five- piece of astonishing power and understated charisma, PARKWAY DRIVE created unseen hysteria and are coming back to claim their festival-anthem crown.
How do you move from a band as pivotal as The Dillinger Escape Plan? For Liam Wilson, it meant ripping up the rulebook all over again. AZUSA make captivating music with unconventional nerve. Uniting the complementary skills of its members, their sound is a thrash-fusion tour de force. Defying expectations by embracing contradiction, AZUSA finds strength in vulnerability, harmony in dissonance and melody in discord.

The only pure metal attack in this update is a bunch of seasoned veterans with a long list of seminal acts in their CVs, coming to dominate BA with their relentless black metal project NORDJEVEL. Get ready for blast-fire annihilation propelled by one of the most insane drummers in the metal scene.

Norwegian-American electro metal project COMBICHRIST mark the return of ultimate genre merger with their infernal, yet extremely addictive sonic lunacy. Known by many as the Rammstein support that overshadowed Rammstein, COMBICHRIST led by Andy LaPlegua moves huge masses with its strange industrial metal sound that is uniquely even in the 'aggrotech' scene.
Remaining within the ranks of metal-and-techno-fusion bands here comes VIOLENT MAGIC ORCHESTRA, an art project of complete harmony of techno, black metal, industrial, noise and emit light. Imagine black metal meets Kraftwerk.
Resonating with all the senses, CASPIAN are for fifteen years a solid and unshakable name in the post-rock scene and one of the best live acts from the genre. You can look forward for a show, which will bring welcomed relax during restless times on Brutal Assault.
Thunder rolls afar, unremitting rain, awaited gloomy deliverance gets under your skin. Sudden storm of unleashed instruments then quietness, absolute serenity. At the gates of hell or heaven depending on the listener's philosophy. Cleverly mixing some kind of modern & ambient Black-Metal with Post-Hardcore tones, DÉLUGE does what has to be done whether you want it or not.

Music is mainly about fun and the Nordic mage Leo Moracchiolo is gonna bring fun factor to BA with his studio-project-transformed-into-band known on Youtube as FROG LEAP.
Final band to this update comes from the fertile grounds of Copenhagen's underground; HEXIS combine black metal with hardcore and post-metal elements for almost ten years now.